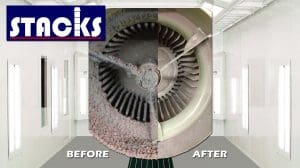 At Dormer Finishing, we pride ourselves in being there for you long after your new equipment is installed, and for future growth. It's our people working as a team that truly makes the difference. Our factory-trained technical staff use the latest in technology to assist you in all areas of your daily operations from equipment to production issues. Our standard service package includes a one year warranty on all equipment and installation.
Our staff is certified by Global, Graco, DeVillbiss, Binks, Gema, Fluid Management, and Hero Products. We service all of these and other makes as well to ensure your finishing systems are up and running to support your business.
Stacks

We've put our experience to work! Knowing how a spray booth exhaust stack should be maintained for optimal performance, we have designed a cleaning method unique to Dormer called Stacks. Talk to us today for a maintenance quote for increased performance and safety.
Preventative Maintenance
Preventive maintenance involves a planned and controlled program of systematic inspections, adjustment, lubrication and replacement of components, as well as extensive performance testing and analysis.
Of course, we realize that equipment grows old, uses change and techniques vary. Our experienced staff takes these circumstances into consideration so an effective maintenance program is performed to keep your equipment running.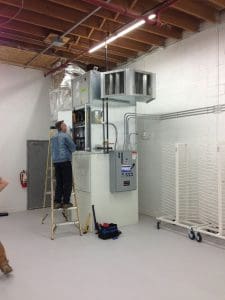 Maintenance of Spray Booths is Law!
According to OSHA and NFPA, spray booths must be properly maintained.
• NFPA 8-3: "All spray areas shall be kept free from the accumulation of deposits of combustible residues."
• NFPA 8-4: "Maintenance procedures shall be established to ensure replacing overspray collector filters before excessive restriction to air flow occurs."
• OSHA 1910-159 Cleaning: "All spraying areas shall be kept free from the accumulation of deposits of combustible residues as practical, with cleaning conducted daily if necessary."
Proper maintenance is key to a spray booth's performance. If a spray booth is allowed to operate without proper cleaning procedures, the percentage of escaped material increases and the quality of freshly painted materials decreases. In time, this escapage will coat the inside of the exhaust stack and settle on the building roof and the surrounding area.
A regulation spray booth will not create a fire by itself. All fires are set by faulty auxiliary equipment, carelessness, poor housekeeping, spark or heat producing equipment near the spray booth exhaust stack.
Cleaning an air filtration system is a dirty job, so it is often the "low man on the totem pole" in the shop that inherits the job – usually begrudgingly. Carefully consider your investment in your spray booth and your desire for top quality work when it comes to your spray booth maintenance! If booth maintenance isn't your thing, consider using Dormer Finishing Systems to maintain your spray booth. Dormer will send our highly trained technicians to your facility to inspect your spray booth filters, heat exchangers and booth, then perform whatever maintenance is necessary to keep the system in peak operating condition. Some spray booth manufacturers specifically recommend using outside maintenance services like Dormer, because they are better trained to service the equipment properly.
With each Dormer maintenance visit, you will receive an updated computer printout stating the services performed on your spray booth. This will assist you in tracking your spray booth service for government inspections. Additionally, your spray booth will operate more cleanly and smoothly, giving you better quality results.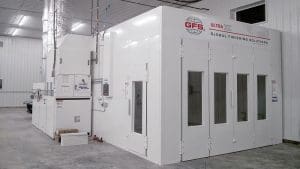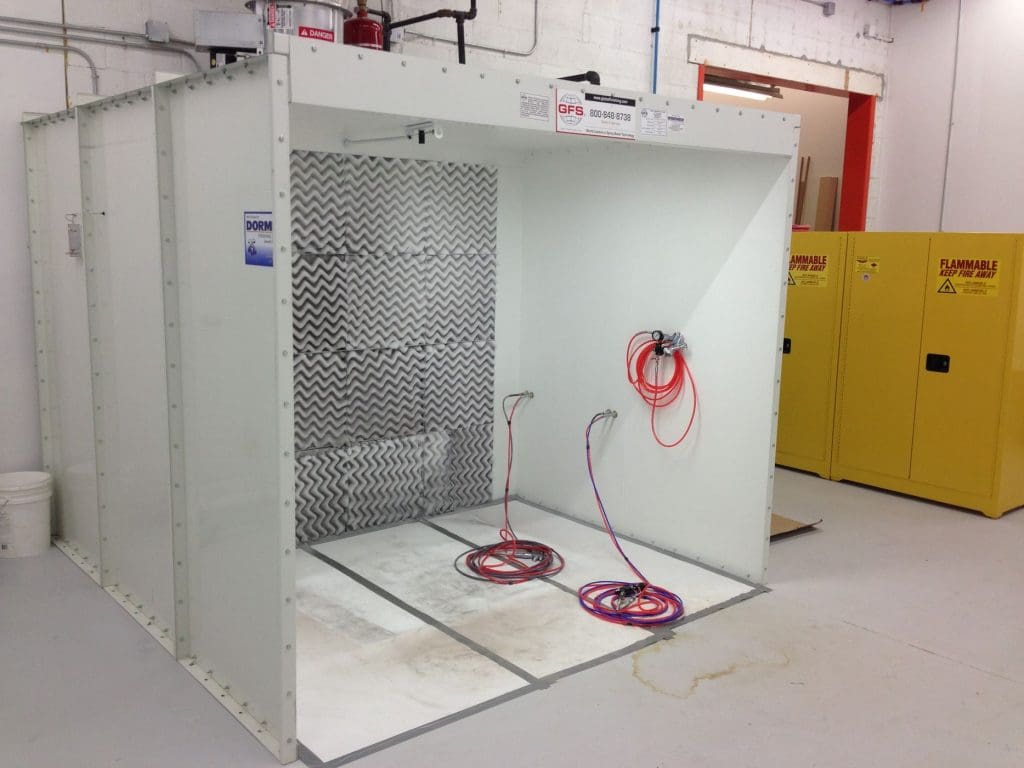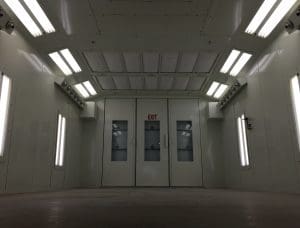 Stack Cleaning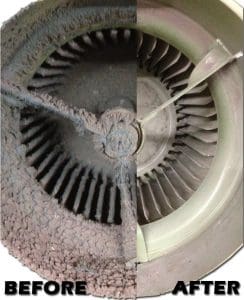 While most cleaning companies simply vacuum as far as they can reach into ducts, Dormer Finishing specialists use manual entry to effectively reach and clean those hard to get areas.
Where necessary, we may even cut access panels into hard-to-reach areas to assure you of the most thorough cleaning job possible. Our vacuum cleaners feature a double filtering system to maximize dirt removal. High efficiency HEPA vacuums may also be used where air quality is especially critical, such as in hospital environments.